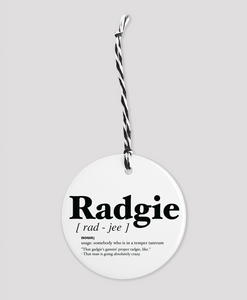 The Perfect Ceramic Christmas Tree Decoration, Designed & Made in Newcastle Upon Tyne.
Reads: Radgie, [ rad - jee ] noun; usage: somebody who is in a temper tantrum
"That gadgie's gannin' proper radgie, like"
-That man is going absolutely crazy.
7.3cm round ceramic decoration

Finished with black & white soft cotton twine - festively Geordie!