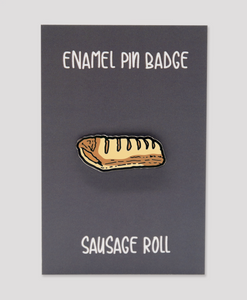 The North East's most ICONIC!
The Sausage Roll.
We have brought this to life in the form of an Enamel Pin Badge.
Handmade item

Width: 32 Millimetres; Height: 25 Millimetres

Materials: Enamel

Style: Minimalist
Sausage Roll Pin Badge

A perfect little token pin to wear with pride, for all the North East & Geordie Expats.

A plated hard enamel pin badge 32mm x 25 mm with rubber clutch fixing on the back.
It comes pre-packed on a card back.
It also makes a perfect Geordie gift for the person unlucky enough to not live in the North East anymore!
...That little bit of HOME!